FROM ZERO TO HERO. A SURVIVAL SPANISH CITY TOUR.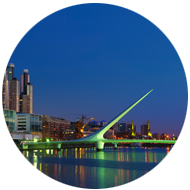 A private city tour in which you will learn and practice the Spanish you need to survive in Buenos Aires in a relaxed and enjoyable way.
7 hs
Come and have fun with us!
If you do this tour with a Private Tour Guide in Buenos Aires you will be able to handle the main situations you can come across in this bustling, vibrant city. I will send you specific and useful vocabulary and phrases that you will read before your trip. It will be much easier for you if you have at least a basic knowledge of our language, mainly for the pronunciation. But, if not, don't panic! We can Skype before you arrive and I can help you with any concerns about your pronunciation. You will then have the basic conversation that you will need in restaurants and shops, ask for directions, etc. Your tour guide will be there guiding and helping you throughout the day and adding to your growing vocabulary. The city tour will contain the same places as the Full Day City Tour, but with this special ingredient.
De cero a héroe en siete horas!
Itinerary: La Boca and its famous Caminito Street with its colorful houses and tango everywhere. San Telmo, with its Sunday street market (the biggest in Buenos Aires) and antique shops. Plaza de Mayo and the Pink House, the Metropolitan Cathedral (Pope Francis' Church). Also Recoleta cemetery where we will visit Evita´s grave and also many other interesting ones. Puerto Madero, the water front and the nice Women´s Bridge. Palermo and its beautiful Rose Garden. The widest Avenue in the world ( 9th of July Avenue), Colón Theatre (outside) and the Obelisk.
BOOK